Unlimited power for your photo adventure!
Portable Powerstations for on the go!
Unlimited Power for yout devices!
AgfaPhoto | Portable Powerstations | Mobile Power Supply | Anywhere and Anytime | For every need | small, light and powerful | rechargeable via solar panel | high safety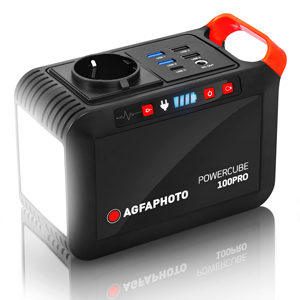 PPS 100PRO
Ultra small and super light!
With a capacity of 88.8Wh and 80W power (max. 120W), the PPS 100PRO is the powerful, handy and extremely lightweight power supply for your outdoor adventures.
The PPS 100PRO is specially designed for mobile powering of smaller electrical devices such as digital cameras, smartphones, tablets, action cams, drones and laptops.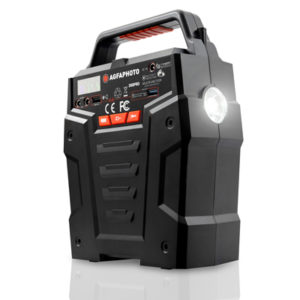 PPS 300PRO
Compact, powerful and always with you!
High power values with low weight of 2.2 kg and handy size. The perfect mobile power storage for outdoor activities such as camping, camping, festivals or for emergency power supply in case of emergencies and power outages.
Five charging outputs for simultaneous charging of your equipment such as cameras, smartphones, laptops or projectors.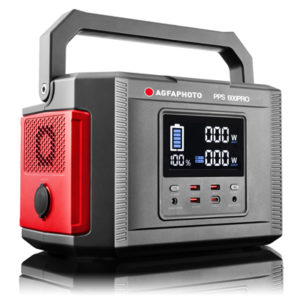 PPS 600PRO
Smaller than many coolers!
With a powerful 644Wh and multiple charging outputs, you can power or charge a variety of electronic products on the go.
Thanks to a total of seven charging ports, you can charge your electrical devices such as laptop, camera, drone or LED TV self-sufficiently anywhere – and simultaneously if required.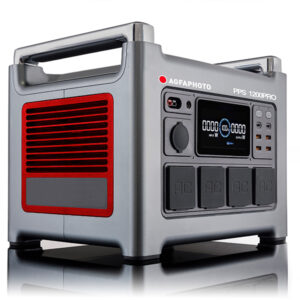 PPS 1200PRO
The mobile power source for professionals!
With 1,000W continuous power and a capacity of 1,127Wh, the Powerstation PPS 1200PRO is the perfect generator replacement for photo-shootings and outdoor events.
Ten charging ports can be used to supply power to numerous devices such as a foto flashlight units, permanent light, laptops or LED TVs.
Portable Solar Panels for on the go!
Mobile Stromversorgung für Deine Outdoor-Aktivitäten!
AgfaPhoto | Outdoor Solar Charger | Foldable for Outdoor Activities | Power Supply for Various Electronic Devices | Sunlight Charger for Portable Power Stations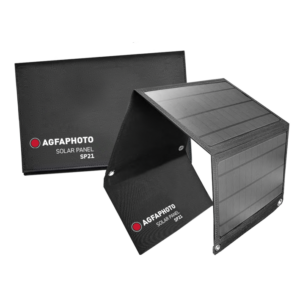 AgfaPhoto Solar-Panel SP 21
Mobile solar energy wherever you are!
The AgfaPhoto Solar Panel SP 21 has 21W power and weighs only 800 g. It can be easily folded and conveniently stored in your backpack. Ideal for direct mobile power supply of smartphone, camera and tablet or for charging your AgfaPhoto PPS 100PRO.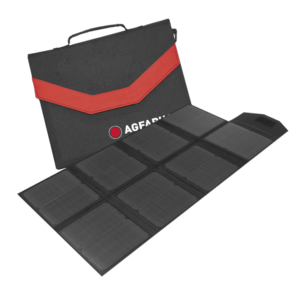 AgfaPhoto Solar-Panel SP 120
Your mobile solar power system!
With a power of 120W, you can use the AgfaPhoto Solar Panel SP120 to directly power numerous devices like digital cameras, drones, smartphones and laptops or charge your AgfaPhoto Powerstations PPS 300 PRO, PPS 600 PRO and PPS 1200 PRO with clean solar energy.